Awards Gala
On Friday night, August 4th, hosted a celebratory gala with dinner, entertainment, photos, and dancing! During the program, we presented the second annual CHW Hope & Care Awards, along with the prestigious Esther M. Holderby Extraordinary CHW award. We also conducted an induction ceremony for new members of the Board, voted in during the annual meeting on Thursday.
The gala was an unforgettable experience – one that would not have been nearly as memorable without all of you. Our thanks to our gala attendees and our many partners who worked tirelessly to make this event happen. We'd like to give a special shoutout to longtime NACHW ally Mercedes Cruz, Founder and CEO of Healthbridge4u, who had a big hand in the gala's aesthetics. Most notably, she designed the table decorations and created a lovely set of theming based on gemstones: Celebrating CHWs – The Gems of the World. See her table placard designs below, as well as a number of photos from the gala itself!
CHW Awards
During the Unity Conference, NACHW presents deserving CHWs with Hope & Care Awards, as well as the esteemed Esther M. Holderby Award.
The Hope & Care awardees are nominated by their peers. Individuals nominate deserving CHWs who embody our organizational values of self-empowerment, social justice and equality, self-determination, dignity and respect, unity, and integrity.
The Esther M. Holderby Extraordinary CHW Award honors a CHW, CHR or promotor(a) with 5 or more years of experience and who has overcome personal adversity to promote health in their community. In addition to promoting health in his or her community, the recipient of the award advocates for funding and/or services needed in their community to promote health. The nominee does not need to work in cancer education or prevention.
Hope & Care Awards: Recognizing your peers in the community
Here are the winners of this year's Hope & Care Awards:
Care in Covid Award Winner: Claudia Cordero 
Honoring CHWs who went above and beyond for Covid-related community support during the pandemic
"The Rural Women's Health Project had proposed working in Suwannee County in Fall 2021, but we had no established relationships with community members or partners. Through our efforts to begin our work in Suwannee, we met Claudia. Claudia hit the ground running and started sharing the COVID and health information we disseminated and put herself out there to meet community members where they were at – grocery stores, work sites, and food distribution sites. She has helped build relationships with new partners – including local churches. She has helped community members schedule appointments for their COVID vaccinations and provided accompaniment." -Nominator
Hope in Healthcare Award Winner: Roxana Lopez
Honoring CHWs demonstrating exemplary work towards achieving health equity
"Roxana has worked as a community health worker for over 15 years and has achieved so much. From her first days as a 211TX dispatcher when it first rolled out. To pursuing a position with Texas Tech University Health Sciences Center School of Nursing for the Larry Combest Community Health Wellness Center under the NEPQR program working as a CHW/Patient Navigator. She assisted patients by clinic visit, home visit or by phone to help them manage their chronic illness such diabetes, high blood pressure and even mental illness. She provided community resources to help pay for medications, utility bills, housing and transportation to help the patient live a productive life." -Nominator
Equity & Justice Visionary Award Winner: Margarita Cabrera 
Honoring CHWs who made strides in the advancement of racial equity and social justice
"She makes sure folks not only feel comfortable about the language gaps but if there are any issues with the naturalization/legalization concerns so makes sure to ease their concerns. She having just become a United States Citizen and having in 2021. She makes sure that they know all of the information on the process along with what their rights are. She is a constant advocate for the equity in the healthcare system as well. Making sure any resources they go to they are treated with dignity and respect no matter of their language, origin of birth or legal status. " -Nominator
Change Agent Award Winner: Chris "Champ" Napier
Honoring CHWs who have dedicated their lives to community violence intervention and/or returning citizens.
"Currently employed with the Mobile County Public Defender's Office, Chris encourages offenders to get on the right track. He conducts field trips for students to witness firsthand how the justice system works and how making poor choices can have a lasting impact on their lives. He mentors at-risk youth and has been key in helping communities address youth violence. Champ volunteers his time with the inmates at Mobile County Metro Jail and is a member of Faith in Action which provides services to incarcerated and newly released individuals." -Nominator
Lifetime Achievement Award Winner: Catherine Haywood
Honoring long-time career professionals (20+ years) and the impacts they have made on their community
Catherine has been a local, state, and national leader for over 30 years. She began her work in the 1980s, as a CHW responding to the AIDS epidemic in communities of color, and co-founded a community-based organization, Women With a Vision (WWAV) that engaged in street outreach with sex workers and people who use drugs. Catherine then went on to work with health departments and university partners on HIV prevention, community development, obesity, hurricane recovery, climate change, domestic violence, and re-entry. In 2011, Catherine co-founded the Louisiana Community Health Outreach Network (LACHON) which quickly became the leading voice for CHWs in Louisiana and now serves and advocates for hundreds of CHWs statewide. Just since the onset of COVID, Catherine has trained over 200 CHWs. Catherine was one of two CHW fellows for the CHW Core Consensus (C3) Project. She is a founding NACHW board member and co-led the NACHW Ambassador Committee for several years. She brings her CHW voice to multiple community advisory boards and multiple federal grants. She has published 20 articles related to the CHW field.
Esther M. Holderby Extraordinary CHW Award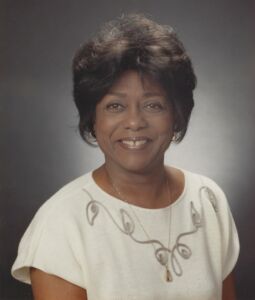 The Esther M. Holderby Extraordinary CHW Award honors a CHW, CHR or promotor(a) with 5 or more years of experience and who has overcome personal adversity to promote health in their community.
Ms. Holderby was a 4-time, 25- year cancer survivor and an extraordinarily dedicated CHW. She lost her battle with breast cancer in 2005. Until shortly before her passing, Esther continued to educate both men and women about the importance of early detection. Ms. Holderby was passionate about reaching as many community members as possible. She was a celebrity on local television and radio broadcast taking every possible opportunity to educate the community.
Additionally, she advocated for sustainable funding for CHWs and public health as an active member of the Massachusetts Association of Community Health Workers and the Massachusetts Public Health Association.
The Esther M. Holderby Extraordinary CHW Award, formally known as the Esther M. Holderby Dedicated CHW was established by the Holderby family in 2006. Since establishing the award, a CHW has been honored each year at the Unity Conference. Unity was an important event in Esther's life. She described Unity as a "family reunion" after attending her first conference. She also presented at Unity several times, often with her daughter, Lisa Renee.
The recipient of the receives a recognition award, certificate, and a 1-year CHW membership for the National Association of Community Health Workers. The award, certificate and membership are provided by the Holderby Family in memory of Esther.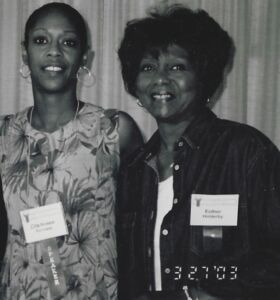 Past Recipients:
Martha Byler, OH (2006)
Anita Buel, MN (2007)
Milta Franco, MA (2008)
Martha Ramirez, FL (2009)
Corinne Justine, AZ (2010)
Maria Lopez, OR (2011)
Ezekiel Lopes, MA (2012)
Ron Sanders, CA (2014)
Zee Turner, MD (2014) Posthumously
Linda Medrano, TX (2015)
Terri Price, MI (2016)
Wanda Castillo, NH (2017)
Naomi Cottoms, AR (2019)
Renee Chavez-Maes, NM (2022)
Award criteria:
Be a community health worker, community health representative or promotor(a) de salud.
Have at least 5 years' experience as a CHW, CHR or promotor(a) de salud.
Have made a significant contribution to community health.
Be an advocate for the community served.
Be active in local, state, or national CHW, CHR or promotor(a) de salud organizations or groups.
This year's winner was: Carla Caraballo
Carla Caraballo is an energetic, outgoing Latina born in Guayama Puerto Rico, raised in Lawrence, Massachusetts, and a Graduate of Greater Lawrence Technical High School. She has been employed at Lowell Community Health Center since 2008 working with the Latin and underserved Community. Carla has worn many hats while gaining experience such as receptionist, registration, and greeter to mention a few. She has been a community health worker since 2009 working onseveral Asthma projects such as HUD 1, 2, 3, 4, and 5, ROAAD (Reducing Older Adult Asthma Disparities), and ROAAD-X. Carlaholds many certifications that have helped her in her role. She completed the Community Outreach Education Certificate program and graduated in 2008, is a certified medical interpreter and received her certification through the Bridging the Gap program in 2009. Carla also received her community health worker certification earlier this year.
Carla has been able to help many of our patients decrease their ER visits, Asthma Triggers while increasing knowledge through Medication management and overall Asthma education while also supporting them with other needs that impacted and improved their social determinants of health. On October 1st, 2023, Carla took on the wonderful opportunity and was promoted to the social determinant of health program manager at Lowell Community Health Center. Carla's Mission is to continue to be a CHW, empower, guide, and support her staff to become the best CHWs they could be while providing caring, quality, and culturally competent health services to the people of Greater Lowell and help reduce healthdisparities and enhance the health of the Greater Lowell community; and to empower everyone to maximize their overall well-being. In her spare time enjoys fashion, deal hunting, traveling, and spending time with her Children and family.